An Honest Bike Shop's Review of The Decathlon Elops 120 Bicycle in 2023
If you're looking for a versatile city bike that combines style, comfort, and performance, the Decathlon Elops 120 Bicycle should definitely be on your radar.
Simply google cheap or budget or value for money city bike and no doubt it'll be one of the first items that pop up!
Designed with urban commuters and casual riders in mind, this sleek two-wheeler offers a host of features that make it a reliable and enjoyable choice for navigating city streets.
In this comprehensive review, we'll delve into the key aspects of the legendary Decathlon Elops 120, highlighting its design, functionality, and value for money. Let's embark on a pedal-powered adventure together!
Design and Build Quality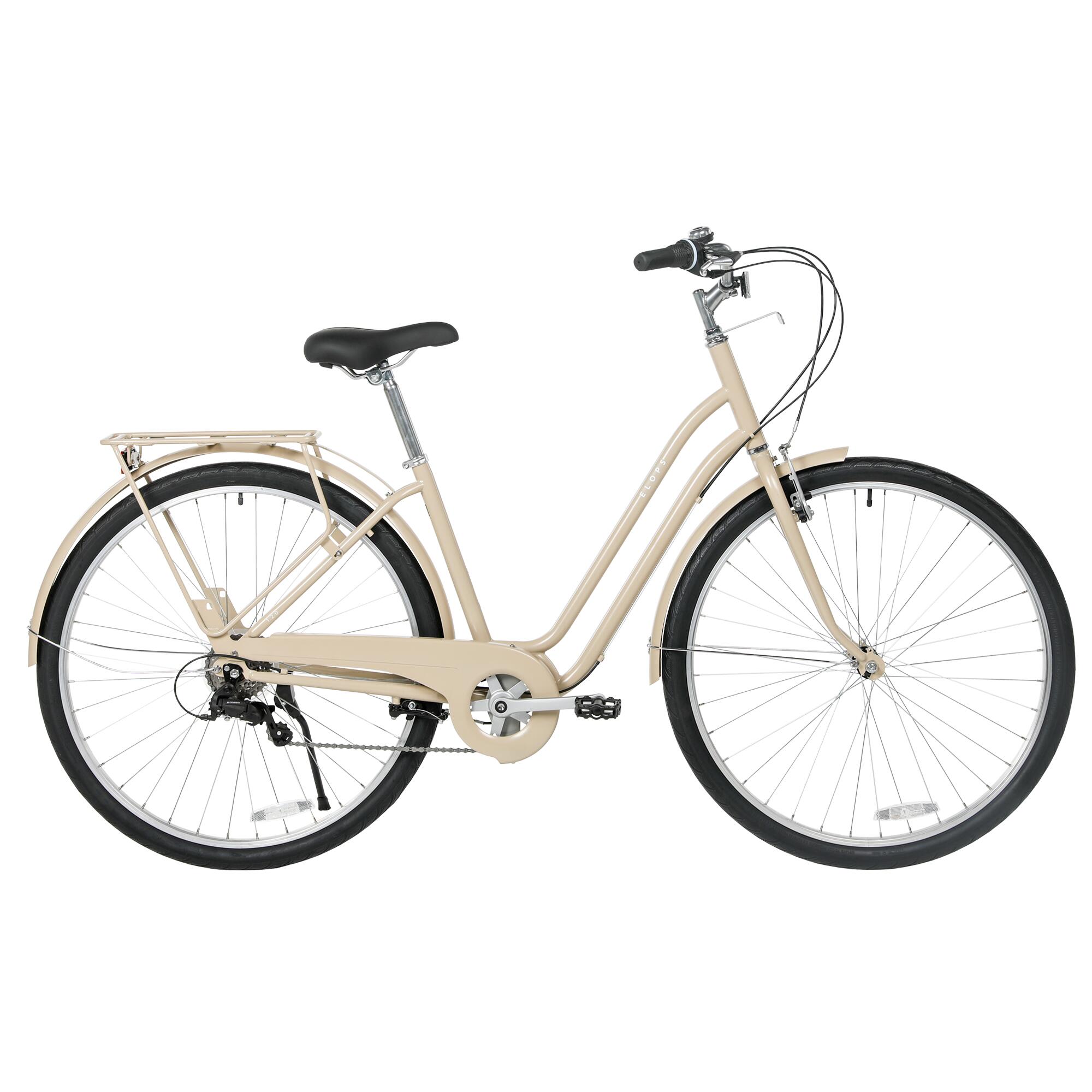 Image Credit: Decathlon
The Elops 120 boasts a striking design that effortlessly blends classic aesthetics with modern functionality. Its sturdy steel frame exudes durability, ensuring a stable ride on various terrains. The ergonomic handlebars provide a comfortable grip, allowing for precise steering and maneuverability through bustling city traffic. With its timeless retro look and sleek finish, this bike is sure to turn heads wherever you go.
Comfort and Ride Quality
One of the standout features of the Elops 120 is its emphasis on rider comfort. The wide, cushioned saddle ensures a plush seating experience, reducing strain on the back and buttocks during longer rides.
The bike's upright riding position promotes good posture and minimizes stress on the wrists and shoulders.
Additionally, the 26-inch wheels with low-resistance tires provide a smooth and stable ride, absorbing minor bumps and potholes with ease.
That said, the drawback is that you'll find it difficult to maintain higher speeds if you're in a rush due to the lack of aerodynamics.
Performance and Handling
When it comes to performance, the Elops 120 excels in its class for the price tag that you are paying.
Equipped with a reliable 6-speed Shimano drivetrain, this bike effortlessly tackles inclines and accelerates swiftly on flat surfaces.
The gear shifting is smooth and precise, allowing riders to find their optimal cadence for any riding scenario.
The responsive V-brakes offer reliable stopping power, enhancing safety in congested urban environments.
Whether you're cruising along busy streets or navigating narrow alleyways, the Elops 120 offers a confident and agile ride. The drawback here is that due to the heavy weight, it might require a little more skill to keep up with that agility.
Versatility and Practicality
Urban commuters often require a bike that can adapt to different situations, and the Elops 120 delivers on versatility. It features a rear pannier rack, allowing riders to easily attach bags or baskets for carrying groceries, work essentials, or even a picnic setup.
The bike also includes mudguards, protecting riders from splashes on wet roads which is essential for Singapore's tropical and temperamental weather.
With the option to add accessories like front and rear lights, this bike can be customized to meet individual needs, making it an excellent choice for daily commuting or leisurely weekend rides.
Ease of Assembly and Maintenance
Decathlon has earned a reputation for user-friendly products, and the Elops 120 is no exception.
The bike arrives partially assembled, with clear instructions and all the necessary tools included.
Most riders report being able to complete the assembly process within an hour, even without prior mechanical experience. Additionally, routine maintenance is a breeze (assuming you know how to do basic bike maintenance), thanks to the bike's straightforward design and widely available components.
Decathlon also provides reliable customer support, ensuring a hassle-free ownership experience. If all else fails, feel free to check out our article on how to find a reliable bike repair and maintenance shop here.
Value for Money
When it comes to affordability, the Elops 120 truly shines. Priced competitively, this bike offers exceptional value for its features and performance.
Compared to other city bikes in its range, the Elops 120 provides a comprehensive package without breaking the bank.
Decathlon's commitment to quality and customer satisfaction further enhances the overall value, making this bike an attractive option for both budget-conscious riders and those seeking a reliable urban companion.
That said, by topping up a few hundred dollars, you will get something more premium which, depending on your budget, is well worth it. For example, the Unspokin Frigate boasts a belt drive and an internal hub which makes the bike practically 0 maintenance.
Pros and Cons Summary To summarize, let's take a quick look at the pros and cons of the Decathlon Elops 120 Bicycle:
Pros:
Striking design with a blend of classic aesthetics and modern functionality.
Comfortable riding experience with a wide, cushioned saddle and an upright riding position.
Smooth and precise gear shifting with the 6-speed Shimano drivetrain.
Agile handling and reliable stopping power with responsive V-brakes.
Versatile and practical features such as a rear pannier rack and mudguards.
Easy assembly and maintenance, with clear instructions and customer support.
Excellent value for money, offering a comprehensive package at an affordable price.
Cons:
The steel frame may add some weight to the bike, which may not be ideal for riders looking for a lightweight option.
The single size may not accommodate riders of all heights, potentially limiting the bike's suitability for taller or shorter individuals.
Style points are a minus because while the bike looks great, you might want to look at other city bikes if you would like something more unique.
Conclusion
In conclusion, the Decathlon Elops 120 Bicycle is a standout choice for urban commuters and casual riders on a budget seeking a reliable and versatile city bike. With its comfortable ride, responsive performance, and practical features, this bike ticks many of the boxes for a rewarding cycling experience in the city.
Decathlon's commitment to affordability and customer satisfaction further adds value to the overall package.
Whether you're zipping through city streets, running errands, or simply enjoying a leisurely ride, the Elops 120 is ready to accompany you on your urban adventures.
So, gear up, hop on, and let the Elops 120 transport you to new heights of cycling enjoyment.
Remember, choosing the right city bike is an important decision, so consider your personal preferences, needs, and budget before making your final choice. Happy cycling!
If you're still not convinced, or would like a little more help choosing that perfect city bike, please check out our article on Riding in Style: The Best Bicycles for Urban Commuting in Singapore