PCN Cycling Complete Guide: All About Singapore's Park Connector Network in 2023
We've all been there at some point in time as a cyclist in Singapore I believe. We're planning a ride on the weekend with family or some friends or we're just trying to figure out how to get to a new place and we're wondering if we can make use of Singapore's fabulous Park Connector Network. While NParks has done a fabulous job of providing us with more options when it comes to cycling other than just going on the road (the sidewalk is unfortunately still not an option when it comes to many places in Singapore as it is notoriously cyclist un-friendly). 
As a result of this, we have decided to put together this ultimate guide to using the Park Connector Network to get around Singapore - to make things easier for everyone. This ultimate guide is a huge undertaking that will be quite lengthy, so it will be released in parts.
How to use this PCN cycling guide?
In order to make this guide as easily relatable for everyone (be it whether you're a seasoned bike commuter or whether you're a weekend enthusiast or even if you're just starting out), we have decided to peg all PCN routes to all MRT stations. What this means is as follows:
If the area you would like to go to has a MRT station nearby that is listed on the route, you will be able to use the route
all entry and exit points of the park connector network will be referenced to MRT stations
If the area/MRT station you would like to go to is not listed in the list, you would have to consider whether you will be able to make the rest of the way to your desired destination by the pavement or the roads
Central Urban Park Connector Loop
Image Credit: Expat's Choice
The entire loop spans 15.6km and will take about 3-4 hours to complete by bicycle at a leisurely pace. For simplicity sake, you can think of this park connector network as a dorrito shaped triangle, with 3 straights lines.
Cycling from Toapayoh (Whampoa) to Buangkok
The first line starts at Toa Payoh and ends at Buankok. The stops that you can make or "exit" the PCN are as follows:
Toa Payoh
Boon Keng
Kallang (Interchange for going to the CBD)
Aljunied
Macpherson
Tai Seng
Kovan
Hou Gang
Buang Kok
The second line starts at Buang Kok and ends at Yio Chu Kang. This is a rather long line, and there are no notable MRT "stops" in between.
The last line starts at Yio Chu Kang and ends at Kallang. The stops for this "PCN line" are:
Yio Chu Kang
Ang Mo Kio
Bishan / Lorong Chuan
Potong Pasir
Kallang
As a side note, you could exit at either Bishan/Lorong Chuan or Potong Pasir if you're headed to Serangoon.
Just want to spend a few lines talking about Kallang, as it is a great interchange for going into the city, especially if you're an office worker commuting to the CBD.
Eastern Coastal Loop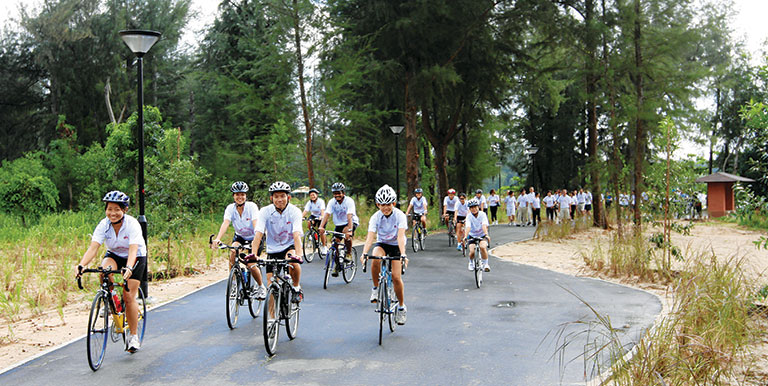 Image Credit: Development Asia
Put on your helmet and embark on a cycling adventure as you cycle through the eastern back bone of Singapore. Part of the Eastern Coastal Loop joins Pasir Ris Park to East Coast Park. This is a paradise for all bike commuters as it brings you from the east all the way into the city where many of us work.

It also provides for hordes of green pockets and parks along this park connector and also offers local favourites in terms of hawker foods.

Here are the notable stops along this route:
Changi Beach Park and changi coastal point walk
Pasir Ris
Tampines
Simei
Bedok Reservoir
Expo
Tanah Merah
Bedok
Kembangan
East Coast Park
North Eastern Riverine Loop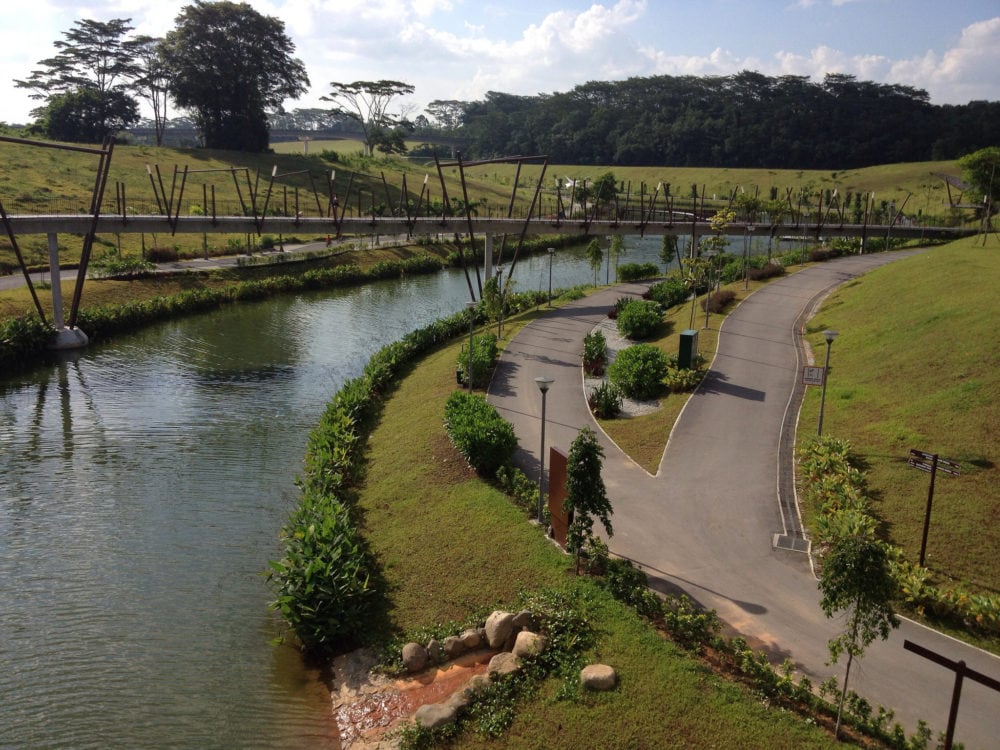 Image Credit: Once in a Lifetime Journey
Discover the less explored North Eastern area of Singapore with this Eastern Riverine Loop Park Connector.

This loo encompasses the heartlands which encircles Buangkok, Sengkang and Punggol. This offers a nice way to get to work because it continues through the rustic landscapes of punggol beach, punggol promenade and Lorong Halus Wetland.

The Route will have you travelling alongside ggleaming reservoirs and waterways and bring you to the open waters of Sungei Dekar and even the Johor Straits! Spot a variety of colourful birds and unique fauna while you commute on your bike to work.

Notable MRT stops include:
Buangkok
Sengkang
Punggol
Notable attractions include:
Sengkang riverside park
Punggol Park
Northern Explorer Loop
Image Credit: Walk With Us
With Scenic Parks, a variety of terrain for outdoor recreational experiences, and amazing biodiversity, the Nothern Explorer Loop is a must for visitors who want the chance to get to know the wild and wonderful side of Northern Singapore. Cycling enthusiasts navigate through the unduluating terrain against a majestic backdrop of large trees. There literally is no better way to commute to work than to be one with nature on this path towards to city. Cutting through Admiralty park will bring you closer to Central Singapore on this loop.

The Mrt Stops include:
Marsiling
Woodlands
Admiralty
Sembawang
Yishun
Western Adventure Loop
Image Credit: Expat Choice
Unlike the well curated and manicured parks, the wild side of Singapore features the best. As they say, west coast is the best coast, and this is no different when it comes to park connectors. This western adventure loop brings you through parks and greenery in western Singapore, where over 50 bird species have been sited! Go ahead and workout a sweat or take a detour in Dairy Farm Nature Park where there are some trails on your way to work.

Notable mrt stops:
Yew Tee
Choa Chu kang
Bukit Gombak
Beauty World
Rail Corridoor South
Image Credit: Little Day Out
This space needs no introduction as it has become insta-famous over the COVID period. spanning from Hillview Mrt to Tanjong Pagar, this brings people living in the west (the best coast) all the way to the central business district. This is one cool park connector to make use of if you're a commuter for sure. It also connects to the Western Adventure Loop, so be sure to take full advantage of both networks!
Here are the notable stops on this network route:
Hill View Mrt
Sixth Avenue Mrt
Buona Vista Mrt
Tanjong Pagar
HortPark & the Southern Ridges
Image Credit: NParks
This is a seamless expanse of green open spaces. The Southern Ridges is a 10 km plus trail that offers a unique outdoor experience in the southwest of Singapore.

From many architecturally striking bridges and walkways, this is definitely one of the more scenic ways to get to work. This is especially true if you're a climber and enjoy climbing on a bike!

The notable stops are:
Kent Ridge
Pasir Panjang
Hort Park
Mount Faber Park
Harbour Front
Get on your bicycle and get on a PCN to get around Singapore today!
What are you waiting for, we have laid out all the routes for you, so all that you have to do left is to hop on your bike. If you are looking for a bike to start your commute to work, do checkout our selection of new and refurbished bikes (or you could just start with a bike sharing bike to kickstart your bike commute journey.
If you aren't confident or would like to learn more before trying to commute to work by bike, fret not! With have many articles such as 9 Top Tips for Beginner Cyclists in 2023, Riding in Style: The Best Bicycles for Urban Commuting in Singapore and even how to efficiently bike to get groceries in Singapore.